Main content starts here, tab to start navigating
Menus
"Empire Eats was an amazing choice for our buffet dinner at our wedding. We had so many great options to choose from for food - Sitti, Gravy, The Pit, The Raleigh Times, etc. We went with offerings from The Pit. Everyone was raving about the pulled pork and macaroni and cheese! My only regret is not having time or room left to go back for a second plate!"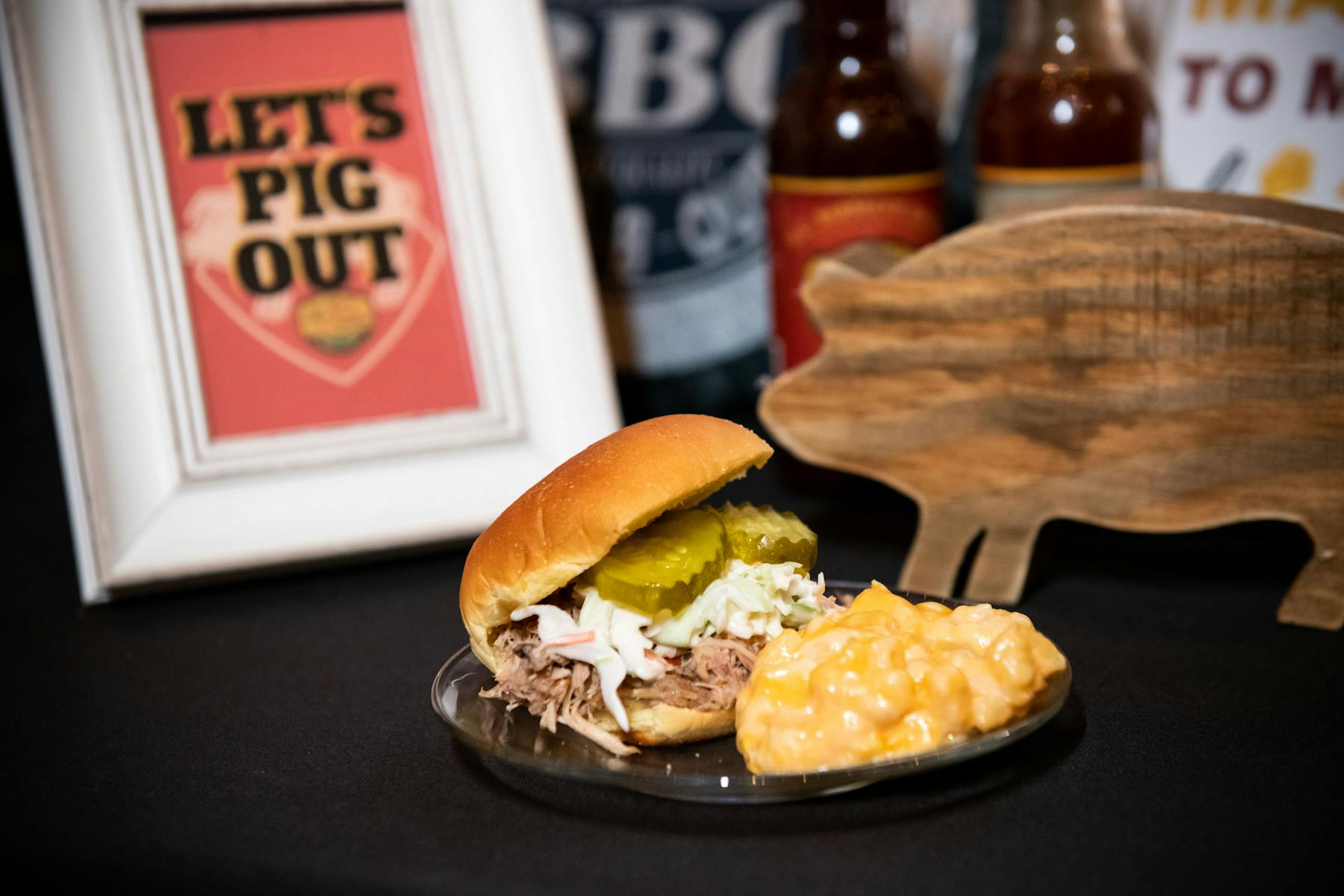 Rejoice! Your Easter weekend meals are ready to serve. Whether you're feeding 2, 4, or ordering enough for leftovers, we've got packages for every-bunny. See below for ordering information. Reheating and freezing instructions included.
Please place your order by 5 p.m. on April 8. Limited quantities available.
Good Friday Dinner (feeds a family of 4) $40
Option 1: Raleigh Times crab cakes with sriracha aioli, herb-roasted potatoes and succotash
Option 2: Mecca clam chowder with Gravy's vegetarian lasagna and kale caesar salad
Easter Meals
Meals for 2 $35
Meals for 4 $60
Meals for a bunch (includes 16 meals) $120
Includes house-smoked ham, sweet potato casserole, roasted green beans, mashed potatoes and gravy, yeast rolls, and a choice of coconut cream pie or chocolate cream pie
The fine print:
Place your order by emailing us at catering@empireeats.com.
PICK-UP
Pick up at Empire Eats Catering kitchen at 415 Royal Street in Raleigh on Friday April 9 between noon - 5 p.m., or on Saturday April 10 between noon - 4 p.m.
PAYMENT
Payment will be due by credit card.
Payment will be processed through our online payment system. You may also opt to provide a credit card over the phone.
Tax and gratuity are not included. Guests will have the opportunity to review their full order before completion of payment.
SAFETY
We are frequently hand-washing, using food-safe gloves, and complying with all CDC guidelines for foodservice and handling during food preparation.
Every one of our staff is ServSafe certified.
All packaging is sanitized and sealed for your safety.
Bar Packages

Corkage Fees: If the host is providing their own wine and beer, EEC will charge a corkage fee per person. We will provide ice, containers for beer and wine and beverage napkins for your event
Wine
Chardonnay

Pinot Grigio

Merlot

Cabernet Sauvignon
Sparkling Wine

Champagne

Riesling

Pinot Noir
Beer
Michelob Ultra

Lonerider Shotgun Betty Hefeweizen

Lonerider Sweet Josie Brown Ale

Lonerider Hoppy Ki Yay IPA
Breakfast
Continental
Yogurt and Granola

Seasonal Fruit

Assortment of Breakfast Muffins and Pastries
The Empire
Scrambled Eggs

Sausage or Bacon

Roasted Potatoes or Grits

Yogurt Parfait

Biscuits and Breakfast Pastries

Butter and Jam
The Capitol
Scrambled Eggs

Sausage or Bacon

Roasted Potatoes or Grits

Biscuits, Butter and Jam
The Cardinal
Home-Made Mini Biscuits

Sausage Gravy

Country Ham

Honey Butter

Strawberry Jam

Sausage Patties

Fresh Fruit Display
Coffee Station
Regular and Decaf Coffee • French Vanilla, Chocolate and Hazelnut Syrups • Salted Chocolate Caramel Sauce • Creamer • Sweetener
Mimosa Bar
Orange Juice • Cranberry Juice • Mango Juice • Fresh Strawberry • Raspberry Drop Ins
Brunch
Fresh Fruit Display • Mini Muffins • Yogurt Parfaits • Morning Times' Chicken and Waffle Bites • Deviled Eggs • Mini French Toast Skewers • Raleigh Times' Shrimp & Grits Cups • Mini Biscuit Bar with Sausage Gravy, Country Ham, Honey Butter, Strawberry Jam, Sausage Patties
Suggested Additions:
Meat and Cheese Plate

Chef's selection of artisan cheeses, fruit, nuts and cured meats served with assorted crackers

Dessert Display

Served with: Assortment of Brownies • Mini Lemon Cakes • Oreo Bars • Mini Strawberry Shortcakes

Mimosa Bar

Orange Juice • Cranberry Juice • Mango Juice • Fresh Strawberry • Raspberry Drop-Ins

Sitti Hummus

Purée of chickpeas whipped with tahini, garlic and lemon juice, served with pita and choice of a vegetable tray

Coffee Station

Regular and Decaf Coffee • French Vanilla, Chocolate and Hazelnut Syrups • Salted Chocolate Caramel Sauce • Creamer • Sweetener
Cocktail Hour
Appetizer Selections
Sitti's Mini Chicken Kabobs

Grilled tender pieces of chicken marinated in yogurt, garlic, and lemon juice served with garlic whip

Sitti's Mini Beef Kabobs

Marinated and grilled beef kabob served with garlic whip

Sitti's Mouhamra Cucumber Cups

Roasted red peppers and walnut puree mixed with spices and pomegranate molasses served in cucumbers

vegetarian

Sitti's Goat Cheese Peppers

Roasted mini sweet peppers stuffed with goat cheese and finished with a balsamic reduction

vegetarian

Gravy's Caprese Skewers

Fresh mozzarella, basil, and tomato with balsamic reduction

vegetarian

Gravy's Traditional Meatballs

Traditional Italian meatballs and red gravy

Gravy's Stuffed Mushroom Caps

Stuffed with a blend of cheeses and herbs

vegetarian

Gravy's Risotto Balls

Crispy fried with fontina cheese and red gravy

vegetarian

Square Burger Slider

2 oz. beef patty, pickles, American cheese, lettuce, and square sauce

The Pit's Pimento Cheese Biscuits

Mom's pimento cheese on a house-made biscuit with country ham

The Pit's Deviled Eggs

Duke's mayo, paprika, yellow mustard, and pickle relish

vegetarian

The Pit's Fried Mac & Cheese

Panko-breaded crispy mac & cheese served with BBQ ranch

vegetarian

Raleigh Times' Crab Cake

With Sriracha Aioli

Raleigh Times' Shrimp & Grits Cups

Gulf shrimp, white cheddar grits, Tasso gravy

Morning Times' Chicken and Waffle Bites

Cheddar and green onion waffles topped with fried chicken and a sriracha-maple reduction

The Mecca's Chili Bomb Bites

Chili-filled potato skins topped with shredded cheddar cheese, sour cream, and scallions

The Mecca's Meatballs

Mashed potato-stuffed meatloaf meatballs and gravy
Cocktail Hour Enhancements
Fruit & Cheese Plate

Seasonal fruit and artisan cheese served with assorted crackers

Meat & Cheese Plate

Chef's selection of artisan cheeses, fruit, nuts and cured meats served with assorted crackers

Sitti's Hummus

Purée of chickpeas whipped with tahini, garlic and lemon juice, served with pita and choice of vegetable tray

Pork Slider Bar

Includes the following: The Pit's Signature Eastern and Western Sauce • Martin's Mini Buns | Served with: Cole Slaw • Fried Onions • House-made Pickles

Street Taco Bar

Includes the following: Mojo Pork • Chicken Tinga | Served with: Steamed Corn Tortillas • Onions • Pico de Gallo • Jack Cheese

Mac & Cheese Bar

Served with: Bacon Bits • Pickled Jalapeños • Green Onions • Toasted Bread Crumbs

Mini Biscuit Bar

Served with: Pimento Cheese • Country Ham • Honey Butter • Homemade Strawberry Jam

Cheese Steak Station

Includes the following: Thin-sliced Sirloin ♦ Melted American Cheese • Mini Hoagies | Served with: Sautéed Onions and Peppers • Mushrooms • Cheese Sauce • Ketchup • Hot Sauce

Sweet Potato Bar

Served with: Brown Sugar • Butter • Cinnamon Sugar • Candied Pecans • Marshmallow Fluff

Crostini Station

Served with: Gravy's Traditional Bruschetta • The Pit's Pimento Cheese • Sitti's Spinach Artichoke Dip • Raleigh Times' Buffalo Chicken Dip • French Bread Crostini • Crackers

Dessert Display

Served with: Assortment of Brownies • Mini Lemon Cakes • Oreo Bars • Mini Strawberry Shortcakes
Dinner
Build Your Own Buffet
Bronze: Salad, 1 entrée, 2 sides, bread, Add dessert

Silver: Salad, 2 entrées, 2 sides, bread, Add dessert

Gold: Salad, 3 entrées, 3 sides, bread, includes dessert
Salads
Sitti Salad

House salad of romaine lettuce, tomatoes and cucumbers tossed in a blend of olive oil, lemon juice and dried mint, topped with red onion

Gravy's Kale Caesar

Parmesan cheese, Calabrian chili, herbed breadcrumbs, house-made Caesar dressing

The Pit's Garden Salad

Spring mix, radish, carrots, crumbled goat cheese, champagne pear vinaigrette

Raleigh Times' Simple Salad

Local greens, toasted walnuts, tomato and cucumber with aged balsamic vinaigrette
Vegetarian Entrées
Gravy's Vegetarian Lasagna

A blend of four Italian cheeses and gravy

The Pit's BBQ Soy Nuggets Soy

Nuggets in our signature western-style BBQ sauce

Sitti's Vegetable Kabob

Grilled vegetables marinated in garlic and lemon juice
Meat Entrées
The Pit's Whole Hog Eastern NC Chopped BBQ

Eastern North Carolina whole-hog chopped BBQ served with The Pit's eastern and western sauce

The Pit's Beef Brisket

Smoked beef brisket in The Pit's signature western sauce

The Raleigh Times' Ham Chop

House cured pork chop with apple butter

Gravy's Braised Beef Short Rib

Braised with herbs and a local brew

The Mecca's Sheperd's Pie

Ground beef mixed with carrots, onions, celery, black-eyed peas and collards, finished with cheddar mashed potatoes
Poultry & Seafood Entrées
Sitti's Chicken Artichoke

Sautéed chicken and artichoke hearts in a white wine lemon sauce

Gravy's Chicken Marsala

Sautéed chicken with a mushroom Marsala sauce

The Pit's BBQ Chicken

BBQ chicken with western style BBQ sauce

The Raleigh Times' Shrimp and Grits

Gulf shrimp, white cheddar grits and tasso ham gravy

Gravy's Shrimp Scampi Risotto

Arborio rice with lemon butter, white wine, and green onion

Ginger-Soy Glazed Salmon

Oven-baked salmon marinated in a ginger-soy marinade
Bread
Sitti's Pita • The Raleigh Times' Focaccia • The Pit's Biscuits • Traditional Yeast Rolls
Sides
The Pit's Mac & Cheese • The Pit's Mashed Potatoes (Sweet or Not) • Sitti Rice • The Pit's Green Beans • Gravy's Roasted Veggies • The Pit's Collards • The Pit's Cole Slaw • The Pit's BBQ Baked Beans
Desserts
Sitti's Baklava • The Pit's Banana Pudding • The Raleigh Times' Cheesecake Brownies • Gravy's Tiramisu • The Mecca's Strawberry Shortcake • The Mecca's Lemon Bars • Morning Times' Oreo Bars
Signature Buffet Packages
The Pit
Eastern NC Chopped BBQ

BBQ Chicken

Cole Slaw

Mac and Cheese

Roasted Green Beans

Rolls with Butter

Add Banana Pudding
Gravy
Kale Caesar

Lasagna

Vegetarian or bolognese

Chicken Marsala

Seasonal Roasted Vegetables

Rolls with Butter

Add Tiramisu
Sitti
Sitti Salad

Chicken Artichoke

Vegetable Kabob

Hummus

Sitti Rice

Pita Bread

Add Baklava
The Raleigh Times
Simple Salad

Ham Chop

Shrimp and Grits

Seasonal Roasted Vegetables

Mashed Sweet Potatoes

Herb Focaccia

Add Cheesecake Brownies
Signature Stations
Empire Eats
Taste of Empire

Includes The Pit, Gravy, and choice of 3 stations

Tour of Empire

Includes The Pit, Gravy, Sitti, Raleigh Times, Mecca and Dessert Display
Gravy
Lasagna Bolognese

Kale Caesar Salad

Caprese Skewers
The Pit
Pork Slider Bar with Mac and Cheese

Includes The Pit's Eastern and Western Sauce and Martin's mini buns with the following toppings: coleslaw, fried onions, house-made pickles
Station Selections
Sitti

Hummus with Pita and Veggie Display • Mini Chicken Kabobs with Garlic Whip • Spinach Artichoke Dip with Crostini

The Mecca

Chicken Salad Triangles • The Mecca Meatball • Mini BLTs

The Raleigh Times

Buffalo Chicken Dip with Crostini • Shrimp and Grits Cups • Devils on Horseback

Dessert Display

An assortment of Brownies, Mini Lemon Cakes, Oreo Bars, and Mini Strawberry Shortcakes
Suggested Additions
Fruit and Cheese Plate

Seasonal fruit and artisan cheese served with assorted crackers

Mimosa Bar

Orange Juice • Cranberry Juice • Mango Juice • Fresh Strawberry • Raspberry Drop-Ins

Coffee Station

Regular and Decaf Coffee • French Vanilla, Chocolate and Hazelnut Syrups • Salted Chocolate Caramel Sauce • Creamer • Sweetener